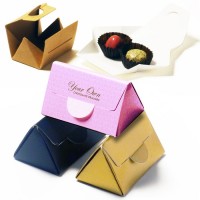 Gift box Duo Box for 2 pralines
Innovative gift box for 2 pralines - Duo Box. A nice little gift box for 2 pralines to "Give-away" for hotels, events etc. When the box is opened, it turns into a small tray. Available as a stock item in the colors gold, black and natural brown. The size is 65x43x43x43 mm. Sold in 250-pack.
It is also possible to order with your own print and logo for numbers from 3000 pcs. Price is provided on request.
Showing 1 to 7 of 7 (1 Pages)