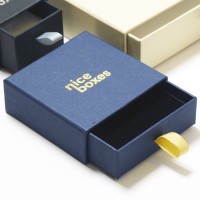 Present box Drawer Box
Our exclusive gift boxes Drawer Box is a luxurious construction where the box is pulled out. The boxes are made of strong hard cardboard which is then lined with colored mat sheets and then glued together. Available as standard in a number of different colors and can of course also be obtained in another desired color, size and texture.
The prices below also include foil printing of your logo on the lid. However, a fixed cost is added for the first time for a cliché .
The minimum order quantity is 100 pcs on our standard sizes and delivery time is about 3-4 weeks.
If you want print, send your logo to info@niceboxes.se We always send a digital proof of approval
Showing 1 to 29 of 29 (1 Pages)