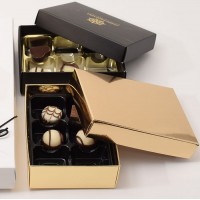 Praline boxes Sober-Series
Our praline boxes in the Sober-Series are available in nine sizes and two heights, all made of cardboard. Perfect for pralines, confectionery and other small products. For pralines and chocolate, we have specially adapted accessories.
The gift boxes are delivered flat / unfolded and folded quickly and easily. Sold in 100-pack, available as stock for immediate delivery.
As accessories for our boxes with lids, we have gift ribbons, inserts for pralines and various types of filling material.
Showing 1 to 48 of 48 (1 Pages)