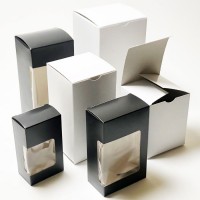 Product and candy packaging
Packaging products correctly is important both as protection and exposure. We offer product packaging in several different sizes and designs. Our product packaging are well suited for both hard and soft products as well as food.
They come in either a white or black colored cardboard and are also available with windows. The boxes are delivered flat in 100-pack. Available as stock for immediate delivery.