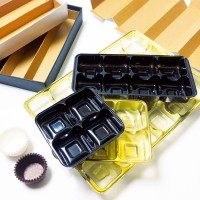 Inserts and paper molds
Our inserts are avaible in PE plastic divided into cells per praline and also avaible in food-approved cardboard divided into files and fit our series Sober, Drawer Box and Brilliance. Our praline inserts in PE plastic are available in black and gold and our cardboard inserts in files are available in natural brown.
Our paper molds are available in the colors brown, black and white in size 25x19 mm.