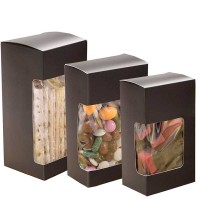 Boxes for confectionery
Our boxes with windows are made of cardboard with a barrier on the inside approved for food and are therefore perfect for pralines etc. with direct contact with the inside of the box.
The boxes are printed in black matt food-approved ink. Window is a PLA film that is intended for close contact with food and is a biodegradable thermoplastic that is derived from renewable raw materials.
The construction is a so-called 3-point bottom that enables a quick folding with a simple hand grip. The boxes are sold in 100-pack.
Showing 1 to 5 of 5 (1 Pages)