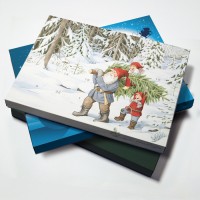 Advent calendars
We have the perfect advent calendars for you! Available in two sizes, these strong and durable cardboard calendars are sturdy enough to withstand daily use and keep your goodies protected.
We offer several pre-printed Christmas designs, or you can order your calendar with your own design.
Our calendars feature doors with a 35x35 mm opening and are delivered including inserts. We offer two different sizes of our Christmas calendars - 365x260x35 mm and 420x310x26 mm.
For calendar size 365x260x35 mm, you can choose between insert in recyclable PE or food-approved cardboard. For the lower size 420x310x26 mm, you can choose an insert in food-approved soft well.
The calendar with a height of 35 mm is suitable for chocolates, tea bags, perfume samples, etc. and the lower advent calendar (26 mm) is suitable for slightly lower chocolates.
The pre-printed Advent calendars are supplied in convenient 25-packs and offer a wide range of designs. Available in stock for immediate delivery.
Advantages with our Advent Calendars
Strong and durable materials. You can trust that the Advent Calendar will last throughout the holiday season.
Alternative options for inserts
Eco-friendly and Food approved Features
Easy Assembly of Cardboard and softwell Inserts
Larger cells for taller pralines or other items
Creative Customization Possibilities. With the large cells, you can easily personalize and customize your Advent Calendar to reflect your unique style and preferences.
Various Advent Calendar Designs Available. Choose from a range of pre-printed Advent Calendar designs that are available for you.